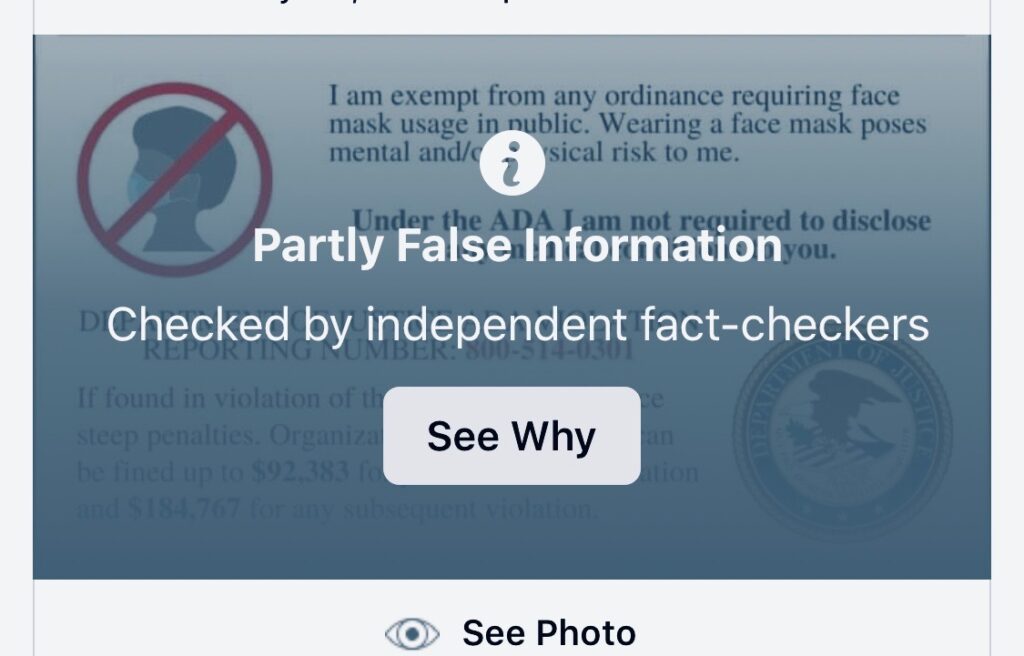 If you shared information about covid-19 on Facebook, chances are at least one of your posts has been shadow-banned or removed. The link or meme you posted was ruled as "Fake News" by the Independent Fact Checkers. Who are the Independent Fact Checkers? And, should we trust them to be the keeper of the true facts?
Fact Checking on Facebook: What Publishers Should know
Facebook is committed to fighting the spread of false news on Facebook and Instagram. In certain countries and regions we work with third-party fact-checkers who are certified through the non-partisan International Fact-Checking Network to help identify and review false news.
What Happens when Facebook Content is Consistently Marked as False by Fact-Checkers?
Answer: Pages that repeatedly publish or share misinformation will see their distribution reduced and their ability to monetize and advertise removed.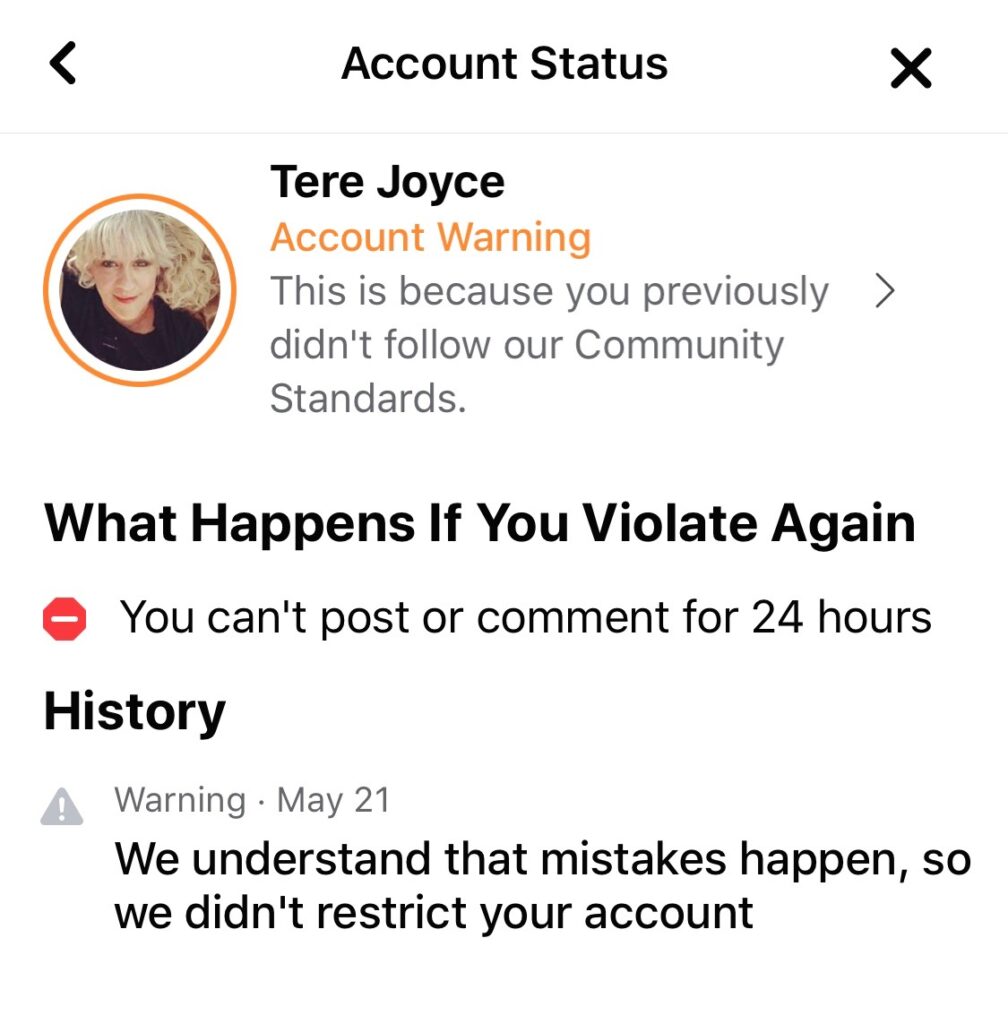 Facebook may also send you a warning to your personal profile. I received this message when a covid-19 post was determined as false by Facebook Fact Checkers. Violations usually stay on your account status for one year.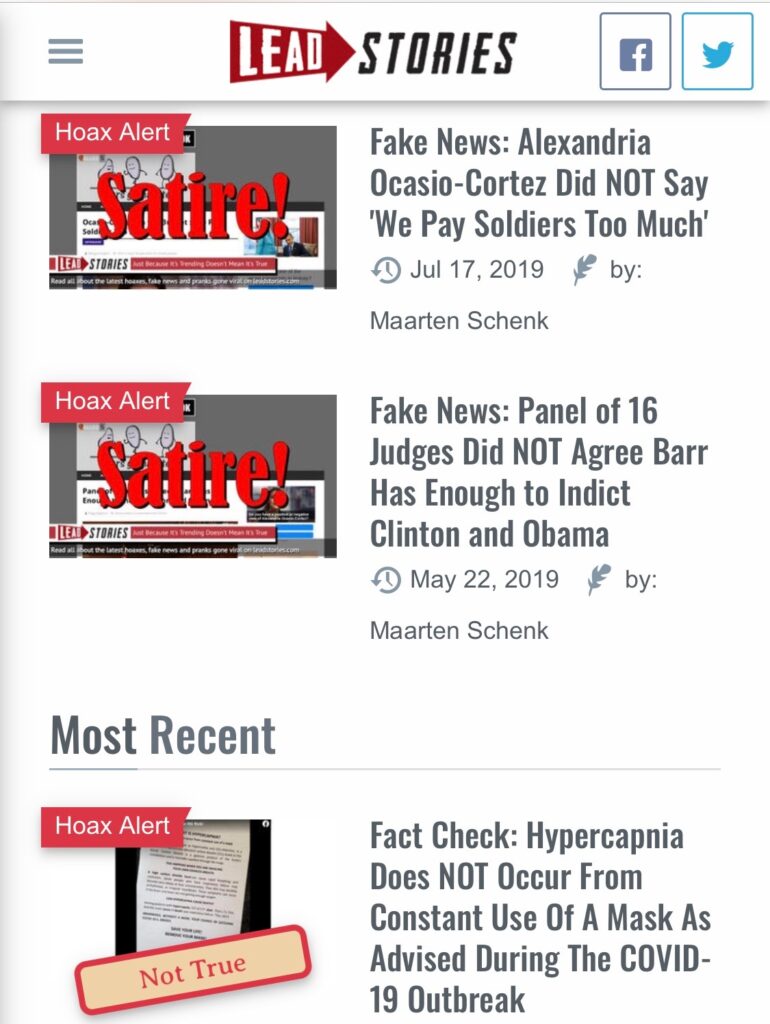 Who are the Facebook Independent Fact Checkers?
Lead Stories is a Fact Checking Website
Lead Stories is one of the many Facebook third-party fact checking websites. Leadstories.com is always looking for the latest false, deceptive, or inaccurate stories (or media) making the rounds on the internet. Lead stories is a member of the #coronavirusfacts Alliance and is funded by a grant from the Poynter Institute.
Lead stories is a:
IFNC Code of Principals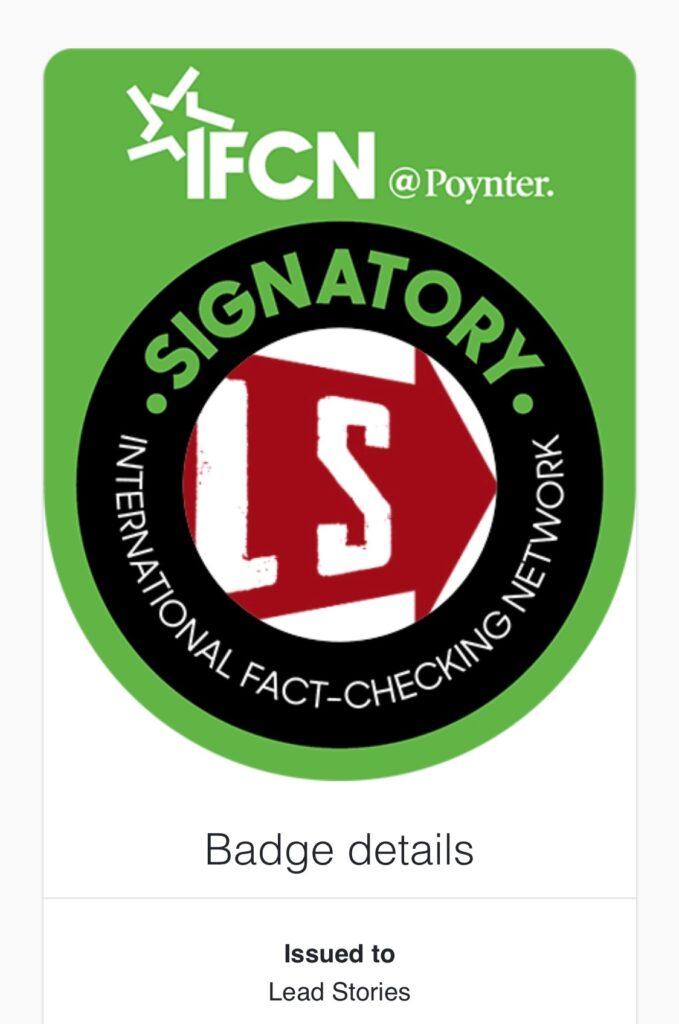 This badge confirms Lead Stories was deemed compliant with the IFCN principles when subjected to the established vetting process and evaluated by external assessors. Through this process, an organization must exhibit a commitment to non-partisanship and fairness, transparency of sources, transparency of funding and organization, transparency of methodology, and a commitment to open and honest corrections.
The International Fact-Checking Network is a unit of the Poynter Institute dedicated to bringing together fact-checkers worldwide.
What is the Poynter Institute?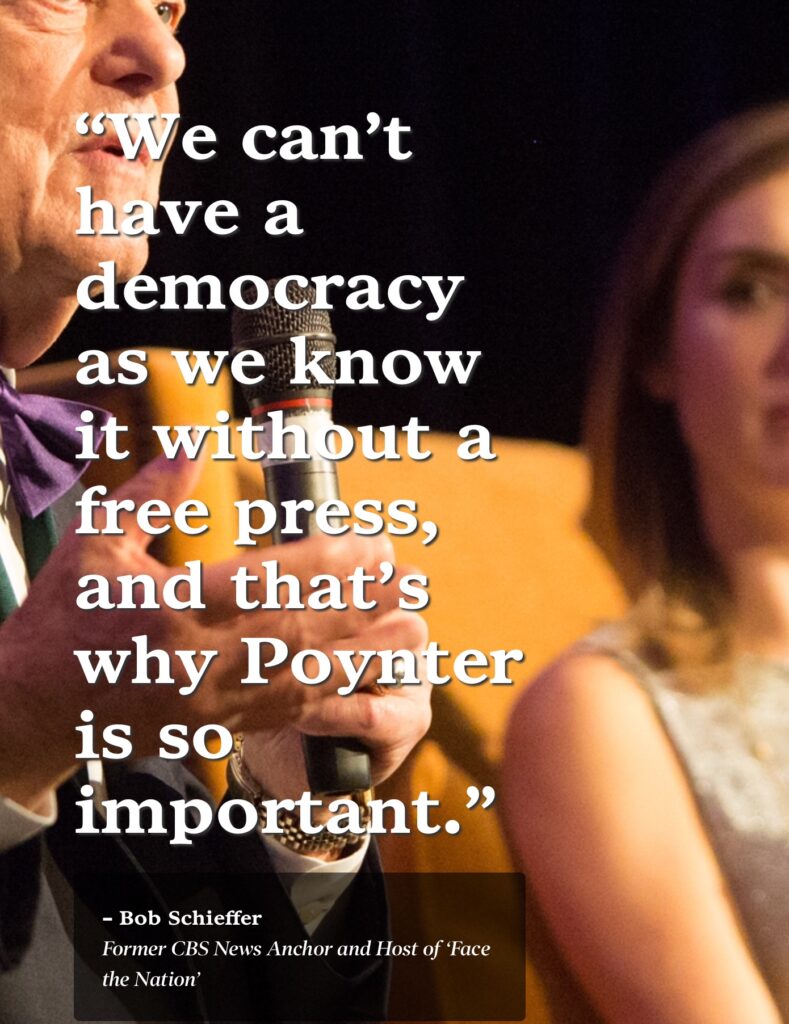 It is the world's leading instructor, innovator, convener, and resource for anyone who inspires to engage and inform citizens. Poynter champions freedom of expression, civil dialogue, and compelling journalism that helps citizens participate in healthy democracies.
The Poynter Institute is a Global Leader in Journalism
Founded in 1975, Poynter is an inspirational place but also a practical one, connecting the varied crafts of journalism to its higher mission and purpose. From person-to-person coaching and intensive hands-on seminars to interactive online courses and media reporting, Poynter helps journalists sharpen skills and elevate storytelling throughout their careers.
We bring together Poynter faculty and industry experts to explore the intersection of journalism, technology and the public interest. Poynter specializes in:
Ethic and fact-checking
Reporting and story telling
Developing journalism's Leaders
Advancing newsroom diversity
Strengthening local news agencies
Is this Journalism or Left Media Propaganda?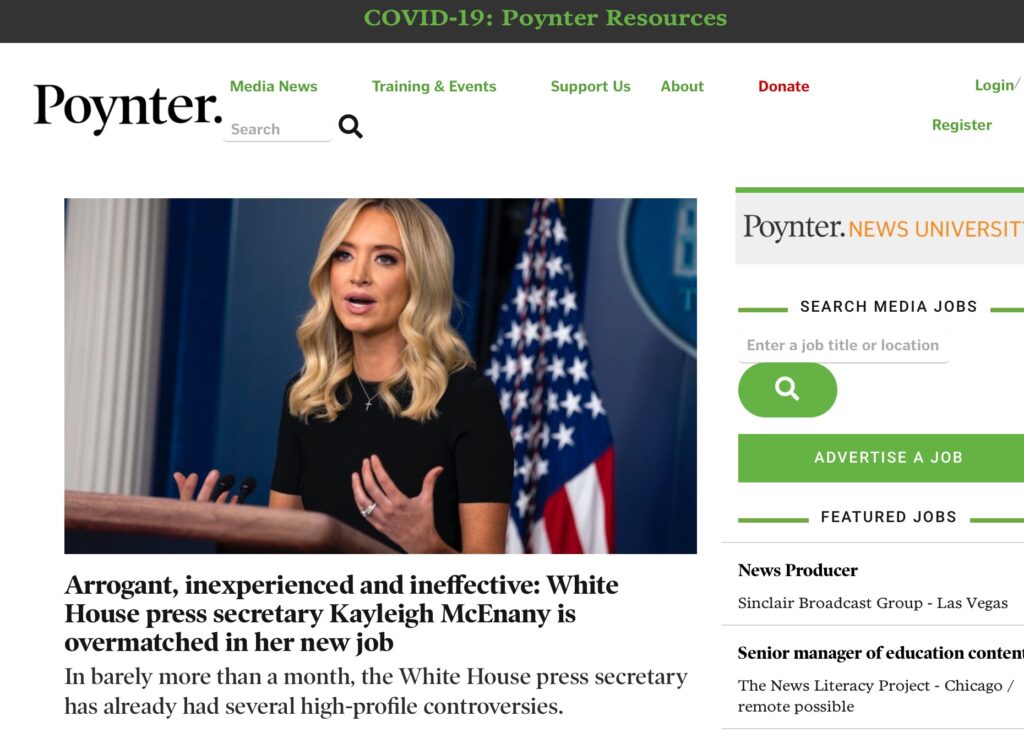 Here is an Excerpt of Poynter's Compelling Journalism
In her very first official White House press conference, McEnany told reporters, "I will never lie to you. You have my word on that." And then, in that very press conference, she lied.
Now she just looks over-matched. The job and this moment seem too big for her. While she's doing her best to protect and support the president, McEnany far too often comes off looking petty, vindictive, tone-deaf and simply not up to the challenge of adequately doing her job.
Perhaps it's the newness of the job and her total lack of experience in this area. Maybe she simply isn't capable of being an effective press secretary. Or maybe she simply can't defend some of the indefensible things President Donald Trump says, does or tweets. Read full article here.
What is the #coronavirusfacts Alliance?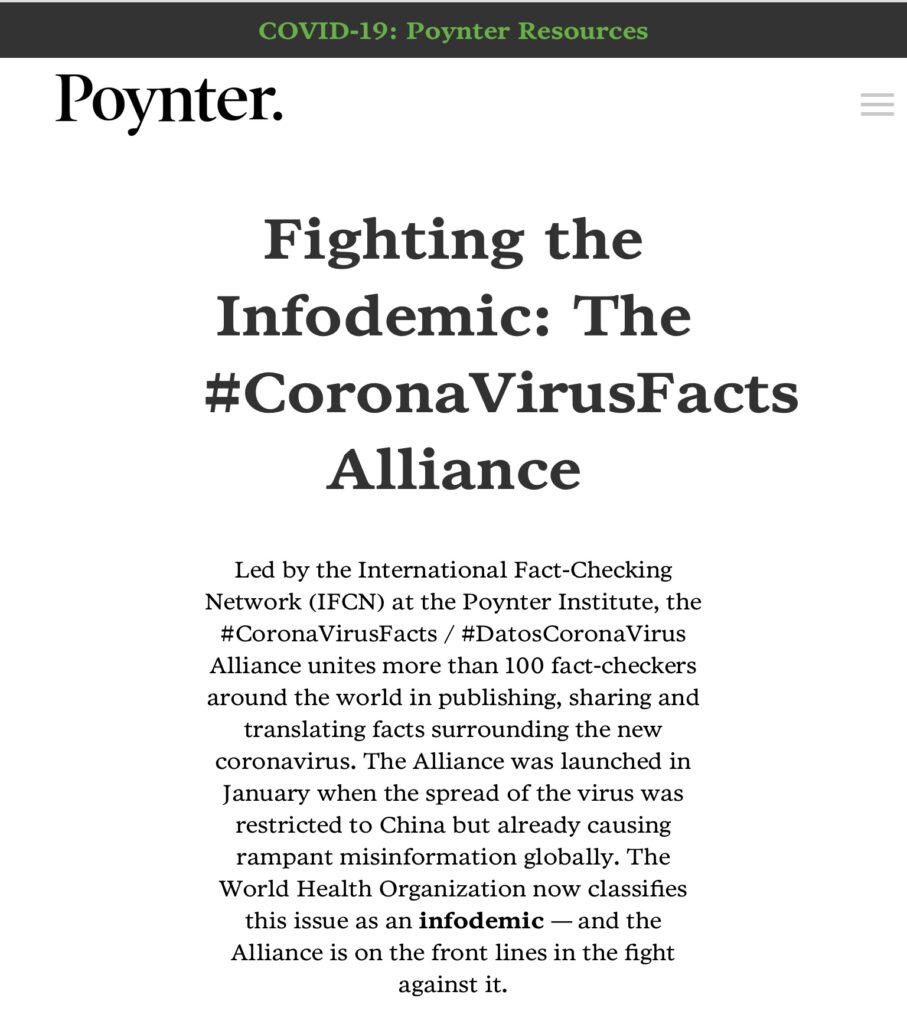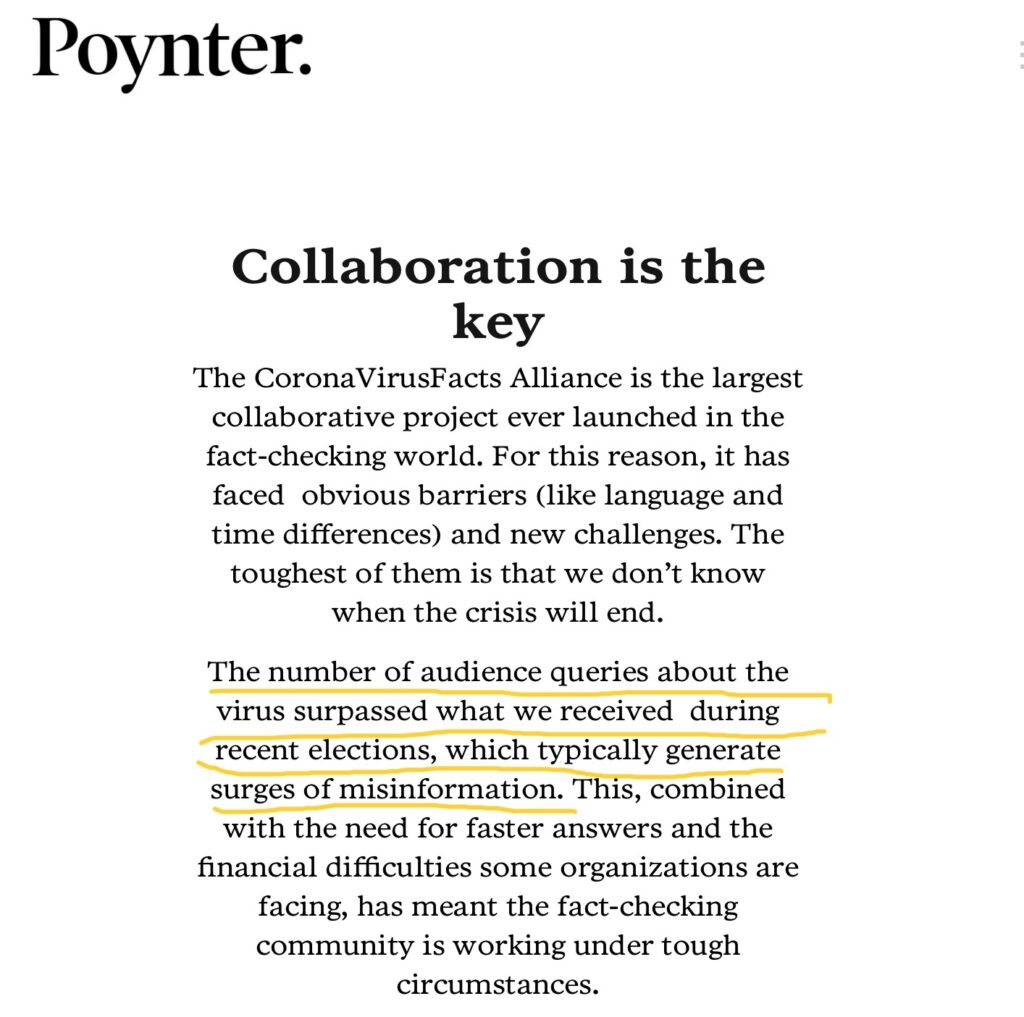 Do you remember the social media censorship of Pizzagate?
All Roads Lead to the Poynter Institute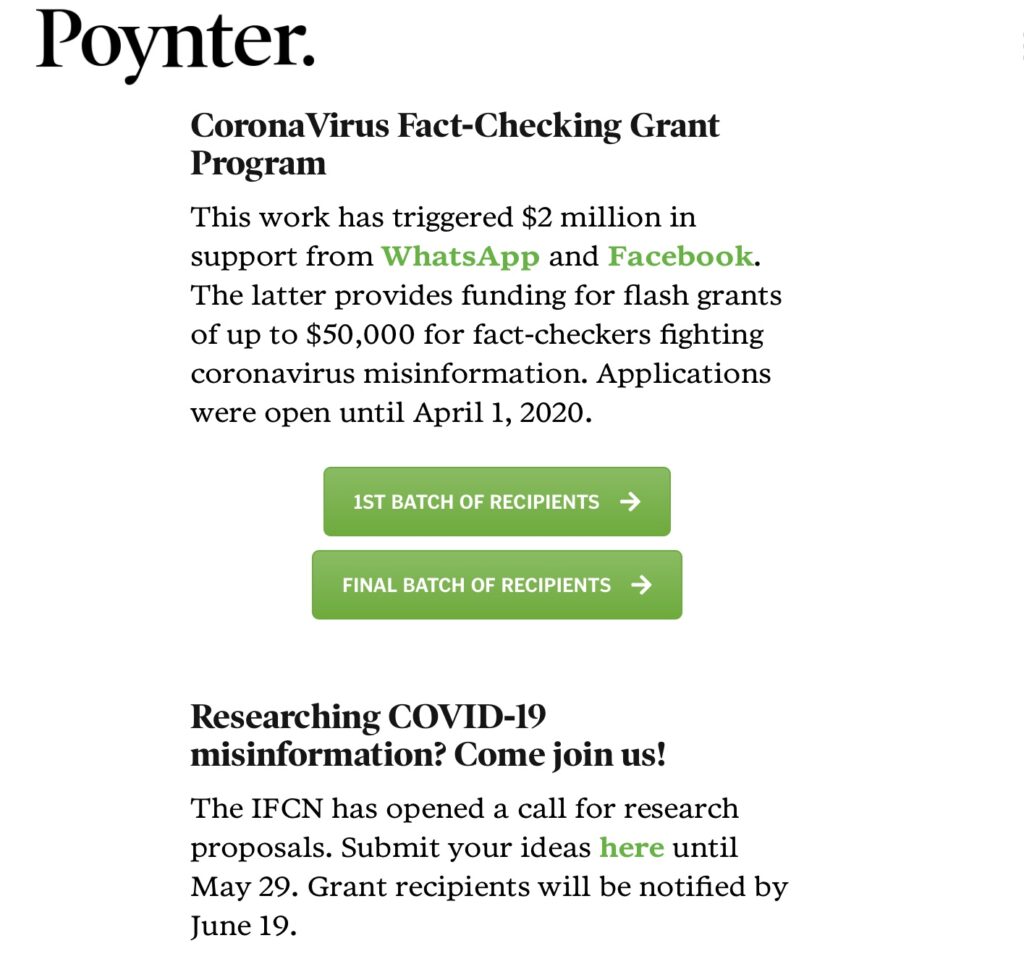 Let's break this down…
IFCN is a unit of the Poynter Institute
Poynter has a CoronaVirus Fact-checking grant program
Third party Facebook fact checking partners are funded and validated by the Poynter Institute
How Accurate are the Facebook -Third Party Fact Checkers?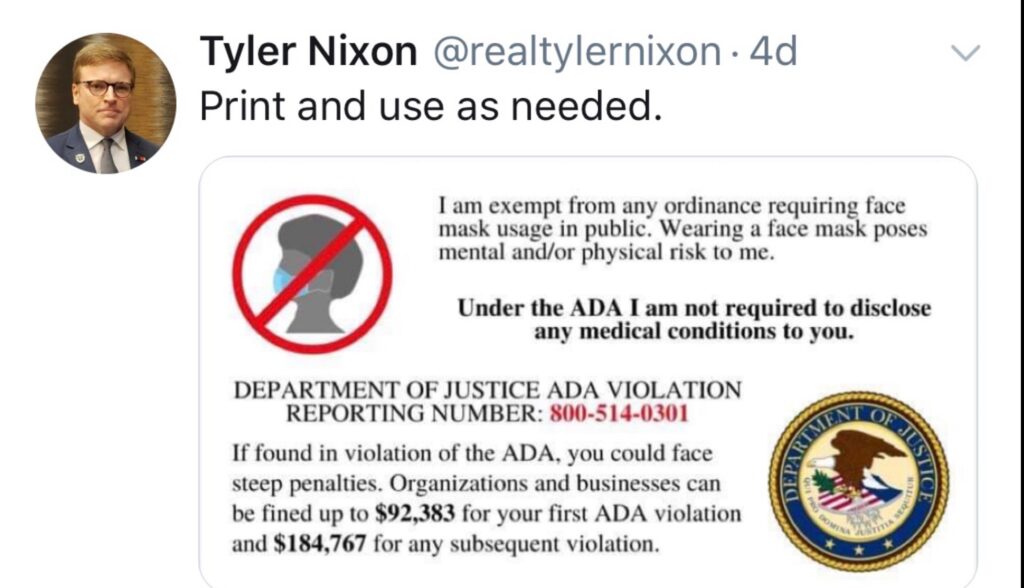 The very same day that I received a warning from Facebook about one of my Covid-19 posts, I shared information from a tweet by Tyler Nixon. I figured the information was legitimate because Tyler is the attorney who defended Roger Stone in one of the most controversial and notorious court cases to date.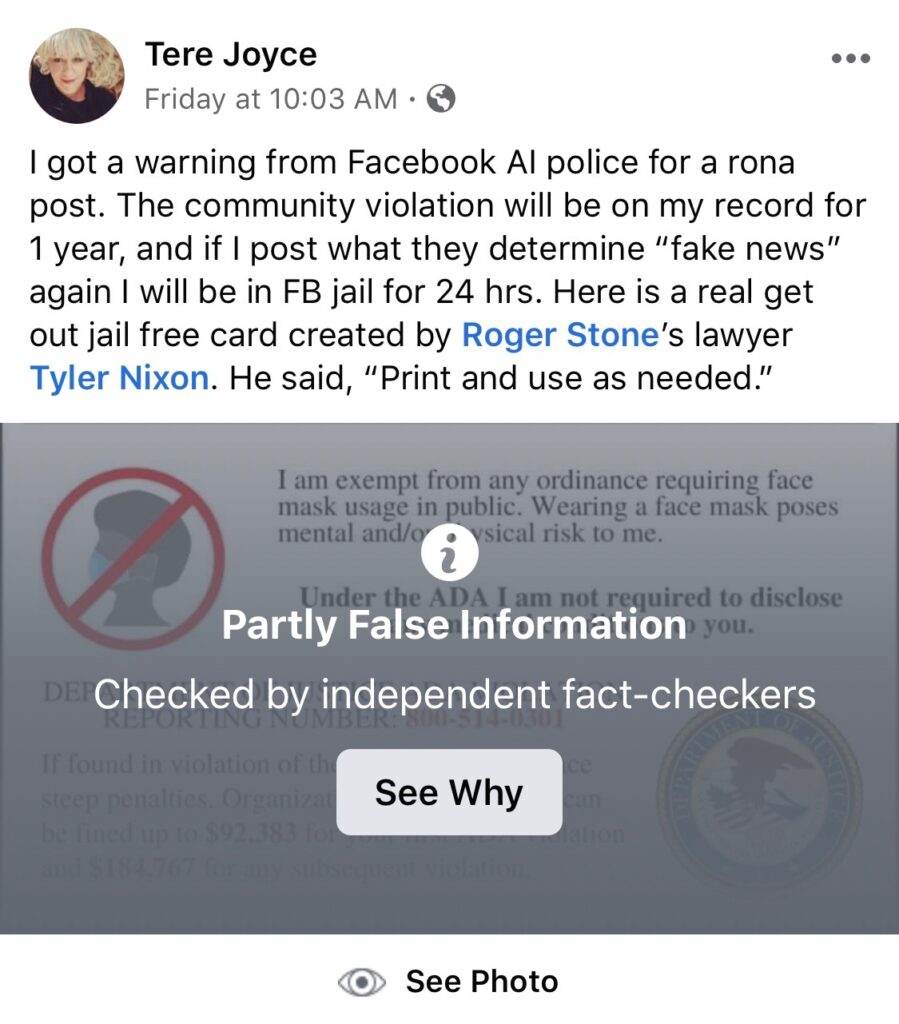 In less than 30 minutes of making the post… it was shadow-banned by Facebook as "Partly False Information", checked by independent fact-checkers.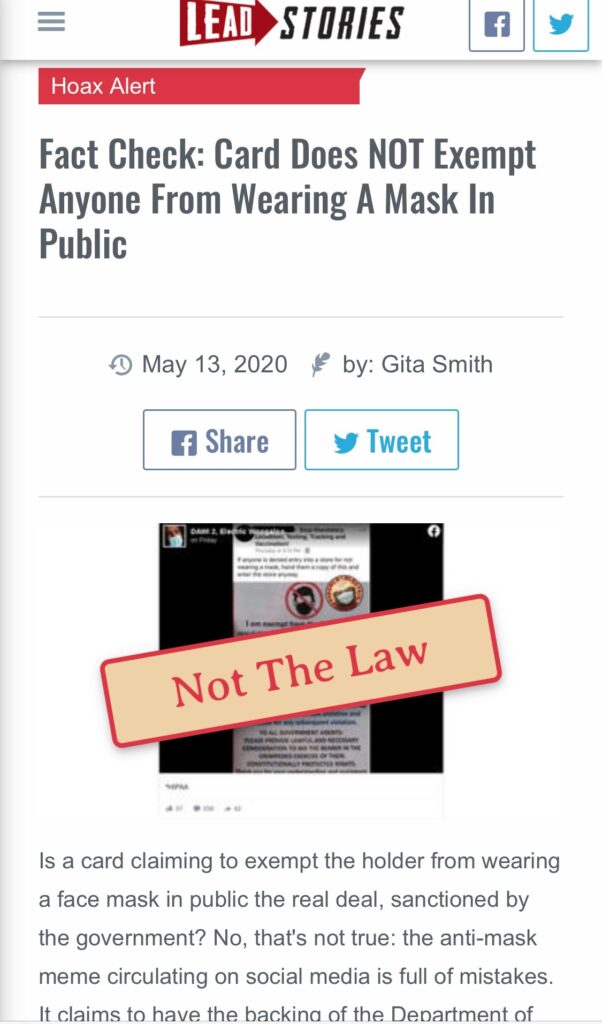 I decided to click onto the "See Why" tab, and it led me to leadstories.com. The blog post was written by IFCN Facebook third-party fact checker Gita Smith.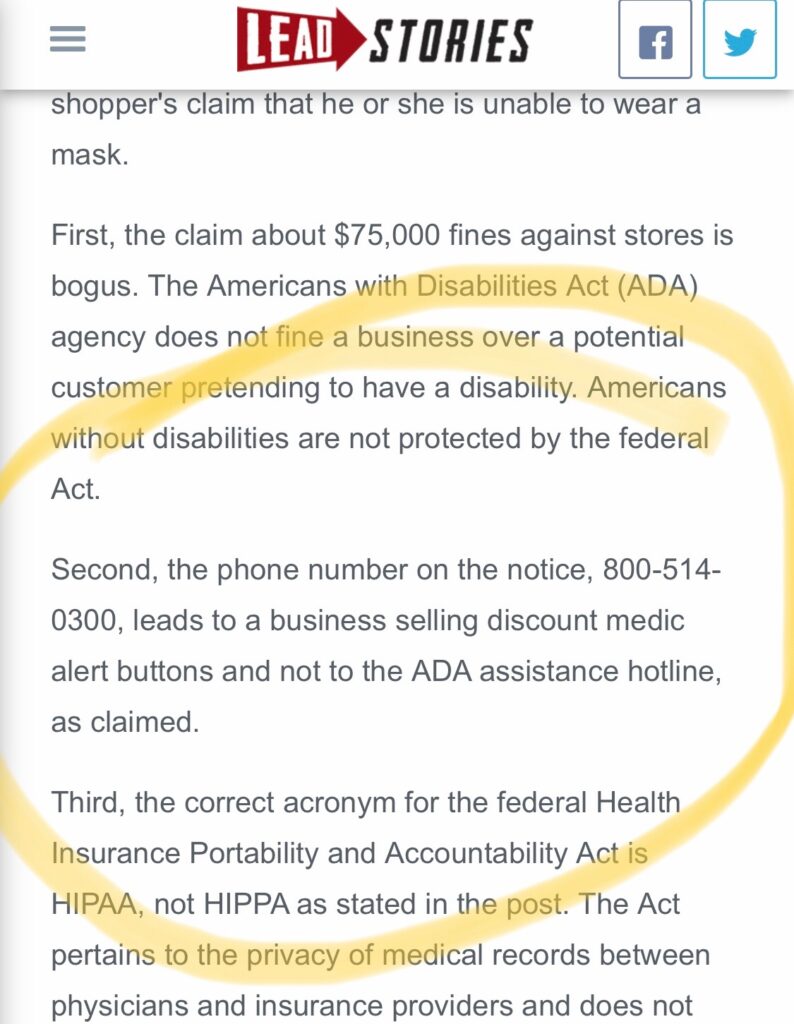 The number for the ADA Hotline is Incorrect!
Gita Smith reports that the ADA number on the card 1-800-514-0300 leads to a business that sells discount medic alert buttons, and is not the ADA assistance hotline as claimed. First of all, the the number sourced by Lead Stories is incorrect. The correct number for the ADA hotline as shown on the card displayed is 1-800-514-0301. I decided to call the correct number, and lo and behold it really is the ADA assistance hotline. Don't believe me? Dial the number yourself, or take a listen to the recording above.
Hoax Alert! Facebook Third-Party Fact Checkers Report Fake News!
So, let's recap and have some fun. Shall we?
IFCN is a unit of the Poynter Institute
Poynter has a CorornaVirus fact checking grant program
Third-party Facebook fact checkers are funded and validated by Poynter Institute
Facebook third-party fact checkers debunk social media shared info with fake news
Hmm…Maybe I should apply for a grant with the Poynter Institute. Perhaps, somebody needs to fact check the fact checkers.
"To wear a mask or not wear a mask: that is the question."

Mike Huckabee
The video below exposes Dr. Fauci giving contradictory advice on wearing face masks.